If I'm Not My Body, Who Am I?
Not long ago I had the most scrumptious dream that I woke up in an entirely different body. It was a fun physique—younger, leaner, and more athletic than mine, with long luscious brunette hair that I couldn't wait to wash and style in order to see what it would do. This body had big auburn eyes and the cutest little yoga-boobs, and she looked adorable in all those clingy yoga clothes that make me, in my waking body, feel like a cased sausage.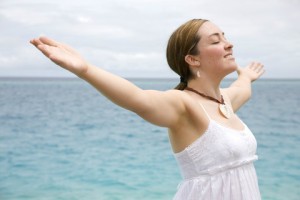 I was pleasantly surprised (actually, I was thrilled) with this new body to play in, and my first thought when I woke in it was: What do I need to do to keep this body in prime form?
Having been a fitness trainer in the ongoing evolution of my life, I knew the answer to the question was to figure out how that particular body worked best—what food it thrived on and in what amounts, what sort of exercise it needed, what weaknesses were inherent in this body that I needed to compensate for. And there were a few weaknesses in it. I had a sense that it was a fairly delicate body and knew, in the dream, that I would have to pay attention to the signals my new body gave me so that I could get to know its needs and idiosyncrasies and keep it in optimal health.
When I woke up for real, back in my waking body, what struck me was the detachment that I felt for the body I'd been given in the dream. The body was clearly a vessel for the interior me, and as much as I loved aspects of the dream body—its litheness, the way it flowed when it moved, those perky little yoga boobs—I viewed it as the body I was given the privilege to play in, and the responsibility to maintain. The detachment I felt for it made it easy to separate the body from "me" and really helped me to understand at a core level what I have been meditating on for years: that "I" am not my body.
The Hairy Fur Ball of Detachment
Detachment is a hairy word in English because it has such a negative connotation. To be detached is to not care, to remain distant, to disregard. But those same qualities can be turned around to the positive—to be objective, to not be sucked into extraneous drama, to look past the immediacy of an emotion and observe the effect that emotion has on you, your body, and the situation at hand.
The Gift of Detachment: Emotional Intelligence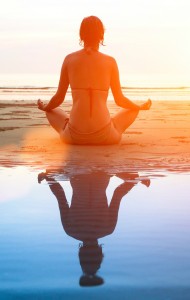 Detachment in meditation means remaining in the point of view of the observer–and this can be expanded into everyday life in the form of Emotional Intelligence. Emotional Intelligence helps you to be more present in the moment rather than get pulled into the never-ending (if you let it) cycle of "what's wrong with me and my life…?" that rises up from past experiences.
One way to cultivate both the observer and detachment from the body you inhabit is to witness your body's needs and reactions during meditation without responding to them.
If you notice an itch, observe the itch rather than scratch it. If your stomach rumbles with hunger, notice the hunger without becoming involved in the experience.
The more you practice this sort of detachment, the easier it will be to not follow the emotion of anger with the action of anger. The more willing you become to sit with hunger and feed your body with the food it needs to maintain optimal health instead of indulging your cravings. The better equipped you become to act in the interest of "you" rather then the body-mind you inhabit.
You will also be able to better follow the signals of what your body wants to eat or do and not the impulses of the mind–after all it's your body that eats and digests that brownie, usually as the bidding of the mind, right?!?!?
When you can master–or at least practice–this kind of detachment, you will find that your life runs much more smoothly and that the things that once made you crazy are no longer even a blip in your emotional radar. How great is that?
What insights have you gotten from your dreams? Share in the conversation box below!