What makes you go "Ahhhhh…."? For me it's the beach. I don't even have to be on the sand, but when I see the
water and smell the salt air, something in me melts into an ahhh-ing ooze puddle. What it is for you?
Take a moment to close your eyes and imagine yourself in you "Ahhhh…" place… Delicious isn't it? And when you are in your ahhhh place, it doesn't matter how much money you have in your pocket or how much money you have in the bank. Those are nice, of course, but when you are in ahhhhh, your net worth takes a back seat to the experience of ease you have.
So it's interesting that so many people, even spiritual people, correlate having money with ahhhh and ease. I know I do, and so do most of my clients (actually all of my clients, even those that won't admit that money is important are working with me to have more of it in their lives.) You probably do, too.
 Money Made Me Uneasy
A funny thing happened to me, however, when I actually caught the wave to a cash flow level that exceeded my ease factor—the level where all of my accounts were growing and I didn't have to pause anymore and think, "can I afford that?"
Weirdly, I actually had less ease. By this I mean I had less ease in my body, which felt like a cat that had just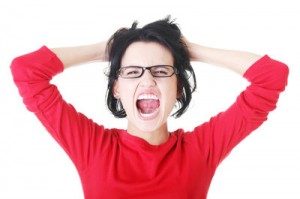 fallen from a tree, frozen and wide eyed and panicked, as well as disconnect between the inner dialogue of knowing that I could afford those things I had been denying myself for years (I hadn't had a new pair of tennis shoes in 5 years, for example) and actually strolling out to an actual store, whipping out my credit card and buying them.
"What the heck's going on?" I thought. This income level was where I imagined being a melty puddle of chocolate-infused ease lounging by the pool with my new tennis shoes and a tangerine leather purse, because what doesn't spell indulgence like a purse that goes with absolutely nothing that I own? But I wasn't. I was the panicked cat trying to figure out how I landed here and what to do about it.
But when I looked at it from the perspective of spiritual paradox I knew exactly what had happened. I'd gotten it ass backward. Again. (Shhhh! Don't tell my clients!)
Why Money Doesn't Bring Ease
Somewhere along the line, we all drank the Kool-Aid that the way to get to what we wanted was to set a goal that our parents, teachers, gurus, school guidance counselor, the cool older kid on the corner, or whoever assured us would give us the excitement, fun, joy, ease or whatever emotional payoff we correlate with achieving the goal. But that's backward, not to mention ineffective.
It's ineffective because when you get the goal, the emotional payoff may or may not show up—you may end up like me as the crazed cat panicked at having landed where I had worked so hard to get to.
It's backward because the path to ease (and eventually money) is through ease. Ease includes having a sufficient amount of money in our society, but money itself doesn't bring ease. As a spiritual entrepreneur or coach, this is great news because the one things that ALL my clients tell me is that they want their emotional set-point to be some flavor ease
Learn how this works in the call below as well as an exercise to help you go forward into ease and money.

What's your emotional experience round money? Is is infused with ease or something else? What are you doing to bring it into ease?
Share in the comment thread below!